Written by Justin, on March 24, 2008
A member from our Webkinz Forum,
webkinzgirl98
, was the first WI member to activate the Webkinz American Cocker Spaniel!
She tells us that the Pet Specific Item, which is shown in the picture below, is the
Fastcar Racer
and the Pet Specific Food is a
Doggy Bone Burger!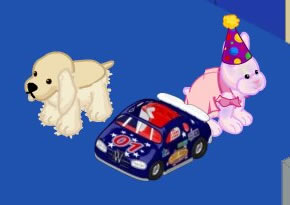 Congratulations to her on the new pet and cool PSI!!
THIS ARTICLE WAS TAKEN FROM WEBKINZ INSIDER

_________________
"Darkness cannot drive out darkness; only light can do that. Hate cannot drive out hate; only love can do that."
~Dr. Martin Luther King, Jr.

---
---
Anything written in red is the writing of the Administrator.