Written by Justin, on March 24, 2008
With our third breaking news article for today, we have confirmed the virtual images for the May Webkinz!
The following image shows all the 5 new Webkinz: Webkinz Whimsy Dragon, Webkinz Samoyed, Webkinz Lioness, Webkinz Gecko and Webkinz Rhino.
In addition, it shows with the two new Lil Kinz: Lil Kinz Chicken and Lil Kinz Black Poodle. This image is fully verified and confirmed with Ganz.
We still don't have any details on Pet Specific Items or Pet Specific Foods, but here's what they look like in Webkinz World!!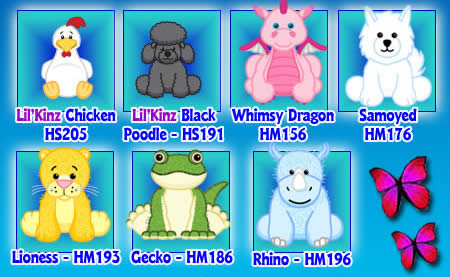 THIS ARTICLE WAS TAKEN FROM WEBKINZ INSIDER

_________________
"Darkness cannot drive out darkness; only light can do that. Hate cannot drive out hate; only love can do that."
~Dr. Martin Luther King, Jr.

---
---
Anything written in red is the writing of the Administrator.