Written by wendy, on March 20, 2008
During last night's updating, Ganz also released some new, never-before-seen food recipes in Webkinz World. An Administrator on our forum,
COWS4YOU
, received the new
Monstrosoupy
recipe from a Series 2 Trading Card code late last evening. Another forum user,
AgentLucy
, just received the
Slimescraper
recipe item during a Lil Kinz adoption! Here are photos of both of the new items for your viewing pleasure: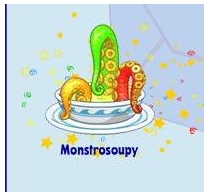 . . . . .

We've started new threads for these new additions in the recipe section of our forum, so feel free to join many of the other members of the WI community in the quest to find the ingredients!
THIS ARTICLE WAS TAKEN FROM WEBKINZ INSIDER

_________________
"Darkness cannot drive out darkness; only light can do that. Hate cannot drive out hate; only love can do that."
~Dr. Martin Luther King, Jr.

---
---
Anything written in red is the writing of the Administrator.