Written by wendy, on March 13, 2008
New WebkinzInsider member, jacquiekinz, invited a WI Staff Member over to take screen shots of her daughter's pink charm forest crystal! This is the first time a member here has reported owning this particular item!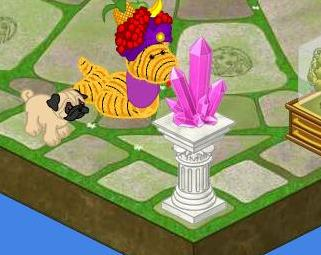 According to jacquiekinz, she received this item in a trade from someone who was not sure how they had gotten it. We had all assumed that this was just another item that did not actually exist outside of the Webkinz World previews for the Charm Forest.
Is this an item that may be available in the Charm Forest at some point in the future? Or is this an item as rare as contest trophies and only a handful of Webkinz World users will ever possess one? Only time will tell...In the meantime, congratulations to jacquiekinz on her awesome find!
NOTE: THIS ARTICLE WAS TAKEN FROM WEBKINZ INSIDER

_________________
"Darkness cannot drive out darkness; only light can do that. Hate cannot drive out hate; only love can do that."
~Dr. Martin Luther King, Jr.

---
---
Anything written in red is the writing of the Administrator.