Written by Justin, on March 8, 2008
One of the users in our Webkinz Forum, sodapop907, alerted the staff to some new items in the Kinz Style shop in Webkinz World. Pictures of the items themselves do not appear in the Kinz Styleshop, even if you click "preview"! Until these items actually appear with pictures in the Kinz Style shop, we want to caution all of you against buying them, as it may lock up your account until the items are fully-added to the Webkinz World servers. In the meantime, you can imagine how these new clothes will look by reading the descriptions below!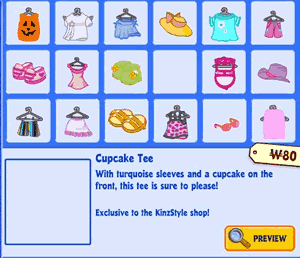 THIS ARTICLE WAS TAKEN FROM WEBKINZ INSIDER

_________________
"Darkness cannot drive out darkness; only light can do that. Hate cannot drive out hate; only love can do that."
~Dr. Martin Luther King, Jr.

---
---
Anything written in red is the writing of the Administrator.